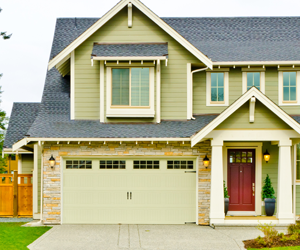 Sherwood Park Garage Doors offers sales, installations, and repairs for all makes and models of garage doors and garage door openers. Our inventory has products from some of the leading names in the business, and we offer them at competitive prices to our clients. We serve both commercial and residential garage door owners in Sherwood Park.
At Sherwood Park Garage Doors, what sets us apart from the competition are our high-quality products and our excellent customer service! Quality is our number one priority. Our diverse garage door line has many options ensuring you will find the model to best suit your home or business design and requirements. From choosing your garage door to the installation, we will be there with you through every step of your project.
Please do not hesitate to give us a call and schedule an appointment. Whether your project is residential or commercial, we have the proven experience and expertise to do it.
EXPERT GARAGE DOOR REPAIR AND SERVICE
At Sherwood Park Garage Doors, we truly believe that professional installation is the key to a dependably performing garage door system. Garage door springs and cable perform under high tension and need expert hands to avoid accidents. Let one of our highly trained technicians do the work for you.
If your overhead door needs repair, don't wait another day. Give us a call, and our technicians will quickly reach your home or business to repair or replace it. We will not only perform repairs on the damaged parts, we will also inspect the entire system to make sure that it is working properly and safely. We strive to meet and exceed customer expectations and take great pride in our work and our reputation.
When you call Sherwood Park Garage Doors we want you to rest easy knowing that your problem will be solved promptly and at a price that won't hurt you wallet. Our expert technicians will attend you in a professional, courteous and friendly manner no matter how big or small the job is.
WE PROVIDE:
Residential & Commercial Garage Doors Installation
Garage Doors Annual Maintenance Services
Original Garage Door Parts & Spares
Extension and Torsion spring replacement
Complete Garage Door Repair Services in Sherwood Park
Garage Door Opener Repair & Replacement
Repair Broken garage door springs
Replace Broken Garage Door Cable
Garage Door Weather Seal Stripping
Panel, Hinges, Gears, Rollers, Tracks Replacement
24-Hour Emergency Services
FREE Estimates