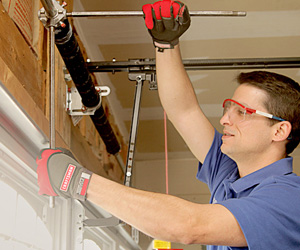 The garage door cable is one of the most important parts of every garage door as it helps in lifting the door up. It is responsible for handling the entire weight of the door and keep it running straight and smooth. Is your garage door not working properly? Is your garage door off track? You might have a broken garage door cable. In such a situation, you need professional assistance.
At Sherwood Park Garage Doors, our experienced and skilled technicians can replace and install your garage door cable in a safe manner. We also provide same day emergency service to ensure the security of your belongings and property. Our professionals always strive to provide fast and quality service to our clients across Sherwood Park.
What causes cables to break?
Over the time, cables break and fray due to general wear and tear. Cables are responsible for a lot of heavy lifting and are subjected to exert a lot of force to lift the door. A cable is made up of numerous steel strands and it starts fraying when the individual wires fail. This is the potential sign that your cable is on its way to failure as a whole. Make sure you get the frayed cables replaced as soon as you noticed them. Broken cables can cause severe damage to other parts of the door along with your property.
Why Choose Sherwood Park Garage Doors ?
When it comes to replacing or fixing the garage door cables, don't wait until the last moment. We understand that damaged cables can hamper your day-to-day household and business activities. That's why, we provide 24/7 same day service to both our residential and commercial clients in Sherwood Park. We make sure you get your doors working again in less time.
How we replace cables
Once you call us, our highly trained and uniformed technician will reach your home within a few minutes of calling.
We will undertake a thorough 25-point safety inspection on your door and other parts. During the inspection, we will identify the problematic areas and also the damaged that has already occurred.
The damaged cables will be replaced with premium quality parts fabricated to match the make and model of your door. Since our service trucks are equipped with cables to fit any door, we will complete the replacement job on the spot.
We'll also perform a tune-up to maintain the quality of your garage door parts and opener. The tune-up service includes lubricating the moving parts, adjusting springs and tightening the hinges to make sure the door runs smoothly and efficiently for years to come.
All our services and parts are backed by the best warranty in the industry.
Our mission is to provide the highest quality services and excellent customer support to our clients.
If you are looking for a professional garage door company to replace your frayed garage door cables, then come to us. We are your local garage door experts in Sherwood Park.