Our pledge, at Sherwood Park Garage Doors, is to provide our customers across Sherwood Park with exceptional garage door service and products on the market. Our years of experience in the industry allow us to repair, replace or service any make and model of garage door and its parts effectively and efficiently. You can trust us for all your garage door service needs in Sherwood Park. Our team consists of highly skilled and qualified technicians who will resolve your problem as quickly and professionally as possible.
Is your garage door troubling you? We, at Sherwood Park Garage Doors, has the accurate solutions!
Does your garage door:
Not work properly?
Not open or close?
Create weird noise?
Very heavy to open?
Stop halfway?
Not reverse direction mechanically?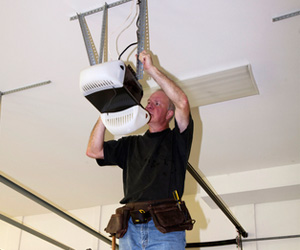 Then contact Sherwood Park Garage Doors. We are your local garage door specialists in Sherwood Park. Our technicians will access your door and fix the problem in a timely and safe manner. Here is what we can take care of efficiently:
Broken springs
Broken garage door cables
Broken or bent rollers
Damaged weather seal
Bent or misaligned tracks
Safety inspections
Replacement of sections
Faulty garage door opener and remote
Noisy garage doors
Maintenance & Safety Check-up Program
Regular Maintenance Is A Must
At Sherwood Park Garage Doors, we believe that regular maintenance is a must to avoid problems. Our professionals provide preventative maintenance services. We provide a wide range of garage door solutions that will keep your doors running reliably for many years. Once you call us, we will arrive at your place to inspect your garage door and identify the potential problems. Once we know the problems, we will implement the best course of action. Any damaged parts will be replaced so that they don't become an expensive repair.
Our technicians are trained to perform every type of garage door service and maintenance job. Whether it's your residential door that has refused to get open or your commercial door that you want to upgrade, we can do it all. Our garage door experts suggest that the maintenance should be done on a regular basis. Make sure you call in a professional for inspection every 6 months to ensure the door is in its pristine condition. Remember, a well-maintained garage door is safer and perform for a longer period.
Trust the Professionals at Sherwood Park Garage Doors.
Garage doors not only protect your belongings, but also enhance the curb appeal of your place. So, it is vital that only qualified professionals work on the door. That's why, all our technicians are trained to offer high quality service along with excellent customer service.