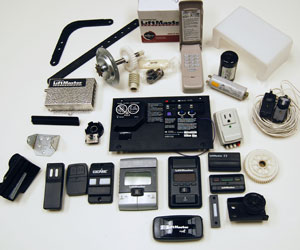 Garage door parts play a vital role in the smooth functioning of the garage door. That's why, it is important to pay due heed to the condition of these parts. If you find any of your garage door damaged or worn, grab your phone and call us. We, at Sherwood Park Garage Doors, carry a wide range of genuine and branded garage door parts. The parts will determine the quality and performance of your door. Our technicians are well-versed with the various door parts and their mechanism. We can install, repair and replace any type of door part of any make and model.
We have a team of garage door professionals who have in-depth knowledge and years of experience in this industry. Our technicians will first evaluate the condition of the door part to determine whether or not it requires replacement. We always make sure to install only high quality and branded door parts so that your door performs smoothly and efficiently.
We Carry a Wide Range of Garage Door Parts:
New Cables
Rollers
Hinges
Struts
Bottom Fixtures
Locks
Openers
Slats
Keypads
Remotes
Photo Eyes
Trolley's
Gears
Boards
Tracks
Sections
Seals
Bumpers
Couplings
Drums
Springs
Bearing Plates
Shafts
And More...
What Makes Us The Leading Garage Door Service in Sherwood Park?
Sherwood Park Garage Doors always strives hard to advance its services so that our clients call us again and again. We have a huge database of satisfied customers, all thanks to our skilled professionals and their hard word. We have a large inventory where you can find almost every type of door part. From garage door openers, keyless entry pads to transmitters and rollers, we have it all. Sherwood is not limited to just garage door parts, rather we also install, replace and repair the parts we offer. We just want to see your garage doors working for you 24/7. And to achieve this, we can go the extra mile. Your satisfaction is our topmost priority.
Our Features
Same day emergency service
Professional & licensed technicians
Exceptional customer service
High quality garage door parts
Fair & honest pricing
Repair, replace and install any make and model of part