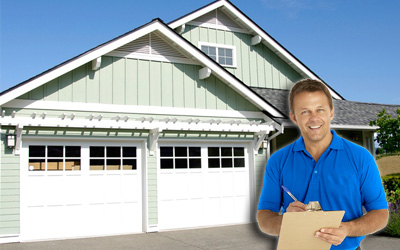 A summer is a great time to get your garage door inspected. It is very important to check every single part of your door. Inspection is one of the greatest ways to prevent the problem before it develop into major issues. The garage door is an expensive and long term investment as well as a useful part of your house. If something goes wrong with it, it's crucial to know what it is.
The visual inspection is the basic method of inspecting the door. First close the door and check all the parts and sections of the door that make up your overhead door. By hiring a professional to do the inspection, you can know the problem very easily and become familiar with your door. Most important thing, inspection of your overhead door ensures you that you and your family is safe and secure.
Here are some reasons why getting your overhead door inspected crucial.
Preventing future expenses:

Performing a regular garage door inspection and investing in a routine maintenance can help you save a large amount of bucks. It keeps the future repair and maintenance costs low. If you ignore the problem and wait for too long, it may increases many other issues, resulting in serious expenses. The same is true if you hire a cheaper technician or attempt to solve the problem on your own. It is better to leave the repair and maintenance to the professional.
Overhead door safety:

The most important reason to have your door regularly maintained and inspected is the safety of you and your family. If you have an old garage door, it means many of its safety components go faulty and may they are not performing well. If you inspect them, you can prevent an injury or accident.
Premises security:

An overhead door is the most important safety feature of your house. You may use it as the main entrance door. It not only provides a storage space for your expensive things like bike, cars and others, but also offer a direct entryway to your house and other private places. If you have weak garage door's security system or it is not working properly, it may be a great opportunity for burglars to enter.
Curb appeal:

An Overhead door plays an important role to enhance the curb appeal of your house. It adds extra value into the structure of your house. If you have a wooden door, you need to pay more attention on it. Because in the rainy season it molds easily. To add aesthetic and financial value, make sure your door is in tip-top and proper shape.
A regular inspection gives you an idea that the parts of your door work properly or not. It is a way to know when parts are worn. If they make any strange or weird noise, make a call to Sherwood Park Garage Doors in Sherwood Park.