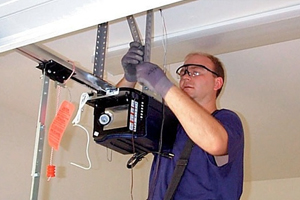 Garages are quite common and so are the garage doors. They are large, heavy doors ensuring the security of your home and belongings. Since it plays an important role of safeguarding your belongings, it should be maintained well and kept in tip top shape. A faulty door can lead to theft, destruction of property and even death. So, it is important to be aware of your door faults so they can be rectified ahead of time. Here, our garage door repair technicians in Sherwood Park will highlight some of the general garage door maintenance and repair tips that homeowners should undertake to keep the door operational for years to come.
General garage door repair and maintenance tips
Residential Garage Door Spring Repair
Garage door springs are one of the important components of a door. They resist a lot of stress and tend to lose their strength and might break. Homeowners need to replace the faulty springs for the proper functioning of the door. Since, springs work under a lot of pressure, it is advised to call in a professional for spring repair or replacement task.
Garage Door Rollers Repair and Maintenance
Garage door rollers are responsible for the smooth movement of the door in the track. Over the time, rollers seize or break up and to avoid such condition, make sure you lubricate and replace the parts time to time. You can either undertake the task yourself or call qualified garage door service in Sherwood Park.
Garage Door Hinges Maintenance and Repair
Garage doors rely on hinges to move independently. These hinges can seize, break or rusk due to excess pressure and stress. Hinge replacement is not a daunting task, it is simple and quite cheap.
Garage Door Opener Repair and Maintenance
Your garage door opener plays a vital role in opening and closing of your door. A faulty door opener can have you stuck inside when you are rushing late for your important meeting. You need to find out root cause of the problem and resolve it in a timely and professional manner. You can hire a qualified technician to repair or replace the opener in Sherwood Park.
Garage Door Weather-Stripping
Weather-stripping is essential to make your garage energy-efficient. It will save you a lot of money in the long run. You can install the weather-stripping by your own or hire a professional for this job.
Garage Door Track Repair and Maintenance
Make sure you never use a lubricant on the garage door tracks. It will make them greasy and sticky. Clean the tracks with a damp cloth and later on with a dry cloth. If you want to repair the tracks, always contact a professional garage door technician.
All the above maintenance tips will help you maintain the pristine condition of your garage door. For professional assistance, you can contact our garage door experts at Sherwood Park Garage Doors. Our experts can repair, install, maintain and service any make and model of garage door.